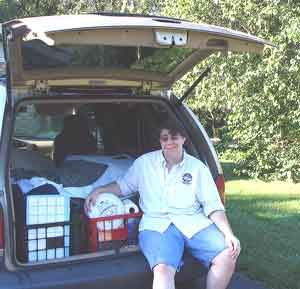 So, here's our boy, car loaded and ready to take the next step in his life. He didn't want to pose for this shot, but I told him it really was a momentous occasion and he finally agreed.
I've been tempted to dig out the old pix of him "graduating" from pre-school for comparison, but I'm not sure I could handle reminiscing about that little guy today!
We've been through this before when he left for RIT last fall, and even though this is much closer, I think (and hope) he will find a true home at Ursinus. We may actually lose parts of him as he finds his own niche. Wonderful and awful....
No official programs to help *us* let go, but it sounds like there are lots of opportunities for the kids to get to know each other and to help *them* adjust, which is the most important thing.
We really are here to give him roots and wings. I remember that as my mantra last year and it looks like it'll be a big help again this year.
I'm about to turn on the kiln, light the torch and attempt to get things back to our regularly scheduled program....