Well, I had almost regained my bearings after the ill-fated Chicago trip when it was time to get ready for the local Gem Miners' Jubilee in Lebanon, PA. What a fun time!
Four of the "Sizzlers" teamed up to man a table at this rock & gem show.
Rachel
took care of setting us up with the promoter and brought her gorgeous "Kissing Fishies". Ann (and her many, many beautiful and technically perfect beads) came up with a unique table dresing in purples and "grizzly green" that made us stand out. Faith brought a good selection of her goodies all the way in from Chambersburg. For a first time out, it was quite successful!
Here's a shot of my display. First thing on Saturday,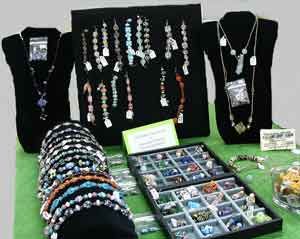 my "Ursula's Sister" mermaid bead and my "Pink Fairy" bead were purchased. I'll have to make some more sculptural beads - I love to create them and apparently they are in some demand.
My "Blue Fairy" necklace was also purchased. Click
here
to see a close up of the Blue & Pink Fairies.
A few bracelets, sets and earrings rounded out the weekend.
We were in a new room added to the show just this year, but doing demos constantly seemed to bring people to our table. The promoter seemed to get a kick out of us - the lampworking and demo added something a little different to the many rock, gem and bead vendors there.
I felt like the guy on the boardwalk at the Jersey Shore who used to keep me spellbound making his little lacy pyrex creatures, or the guy who made the blown swan barometers - remember them? Since I tend to be something of a ham, I enjoyed the attention and loved answering questions about every facet of lampworking.
It was interesting for me since it was my first time using a "Hothead" torch. The Hothead was the perfect, easily transported and easily set up, tool for a demonstration. Conditions were not ideal and I kept trying to find the sweet spot in the flame. Although wonky, the beads we created were just perfect for their purpose.
Since there were four of us manning the table, we had plenty of time to shop as well. Good time, good company, pretty good sales....and Rachel, great Guacamole! We'll be back next year!