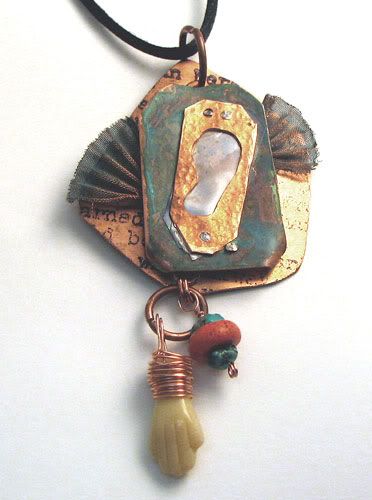 I know, I know... It's been a long time. It's been a busy week, but lots of fun.
The piece at left was the result of a class I took on Thursday at Beadfest in Ft Washington, PA. The instructor,
Susan Lenart Kazmer
, is someone whose work I have always admired and found fascinating. When I had the chance to take a class with her, I was thrilled.
We learned to rivet and create dimensional layers of metal along with different surface treatments. There's a picture in the center which is sandwiched under mica between the "frame" and the copper backing.
Susan seems to spew positive energy all over the place and her enthusiasm for what she does is quite inspiring. I'd jump at the chance to take another class with her in a minute.
Other than the class, Beadfest seemed to be even bigger and better than ever before. Lots of variety in the vendors - at least the ones I saw. I felt I hardly had time for shopping, or the energy for it, but I still managed to make a few purchases. Friday night, I met up with some friends, Nolly & Laura
"The Bead Ladies"
, for what I hope will become an annual event... Margarita Night!
The trip home on Saturday morning was a real nightmare since we were experiencing the dregs of Hurricane Tammy. I can't complain about the rain, we needed it desperately, but it did nothing for driving on the Turnpike!
Earlier in the week, we delivered the finished cookbook we've been editing for Nancy Reppert at
Sweet Remebrances Tea Room
in Mechanicsburg. It's going to be a winner. I think I may have gained 5# just typing some of those great recipes!
We've also been packing soap, making soap, cutting soap, trimming soap...... Lots of orders have come in and we are also planning to open the soap & jewelry studio to our Christmas tree customers this year here at Frog Hollow along with participating in a consignment craft shop in Lititz, PA.
Today, we seem to have managed to finally reach a point where we can breathe in the soap/orders department and finished up a new product we've been working on for quite some time.... Soap balls, but we're calling them "Road Apples". It'll be a special item at first for the Amish roadside stand that sells our soap. We'll see how it goes, but, you know around here, there is a chocolate candy called "Cow Patty" that looks like.... well, you know. And they sell that stuff....