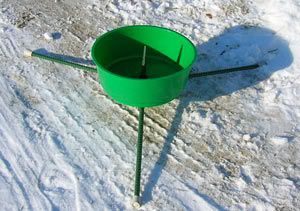 This is not an ad...
we sell these at our tree farm, not on the internet.
In my humble opinion, this is one of the best tree stands on the market. It is called a Stand Straight and for the money($20 here) and the ease of use, it is the best.
It has a spike in the bottom of a nice big water bowl and is held solidly in place by a tripod base of rebar.
When we decided to sell these stands, we also had to purchase the "jig" which is used to drill the hole in the bottom of the tree. There is a *v* shaped piece at the very top of the machine where the top of the tree is nestled in and just above the drill is a sort of hollow where the base of the tree is set. The drill (which you really can't see in this picture, but it is on top of the green motor) comes up and drills the hole perfectly so that when the tree is placed on the spike in the stand, it is straight and secure.
We joke that this stand has actually saved marriages, but judging from some of the comments by people who come back year after year, apparently for those for whom setting up the tree each year is a stressful activity, it may have certainly made a difference in their tree experience!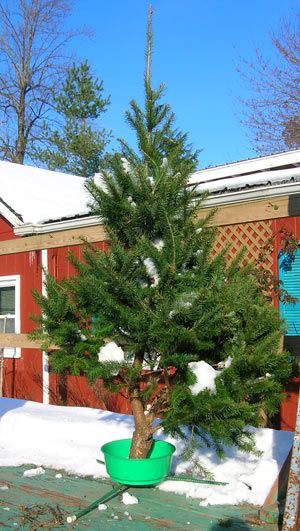 It is so easy, that single women have been thrilled to have found the system as well. My sister used to like to get a fresh tree while her husband was at his National Guard weekend and she found with this stand, she could easily get the tree, take it inside and set it up by herself while he was gone.
My husband always finds a tree with a twisted trunk that would usually wreak havoc with a normal tree stand and puts it in one of the Stand Straight Stands to demonstrate just how well it works. You can see that he cuts off some of the bottom limbs to make it quite evident that this is not the *perfect tree*. It still stands straight and tall.
Our tree farm is choose and cut, so we're helping people make memories with their kids... Just trudging up the hill to the field of tree and (especially this year in the snow) finding a tree, cutting it and hauling it down are adventure enough for most families. This is supposed to be a happy time. No one needs to deal with more challenges when they get home!