The elusive Tina...
Here we see her in her native habitat. Granted, it's a blurry picture, but exciting nonetheless. At first, I thought it was the rare Sasquatch, but understand they are great hairy beasts (seldom seen in the east wielding cameras) and then realized this is the an even rarer find. Watch it, she may be a bit grouchy. I have gotten closer, but find she's apparently frightened of the camera when it is pointed at her, and becomes skittish.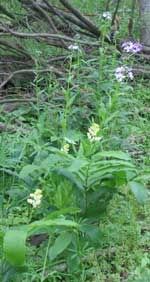 Seriously, we did a delayed woods ramble on Wednesday evening and found everything to have grown immensely in the past week and a half. Wild phlox and false Solomon seal nestle together in the lush growth. Poison ivy and its healing companion, jewelweed, run rampant. In open, meadow areas, we see places where deer have bedded down, or left their fawns to sleep, hidden among the tall grasses.

I did manage a session at the torch and produced a couple of new vessels. One in particular is my interpretation of a pond, with the first water lily leaves just starting to rise to the surface. The colors reflect the moth I showed in my "visitor" blog entry a few days ago. Soon as I have a picture, I'll post it.

I've been getting ready for an outdoor show I plan to do in June and yesterday, Bob (my DH) and I went shopping. Picked up an Ez up tent along with more flowers for a backyard transformation we've been working on. We've been in a bit of a mini drought, so rains predicted for the next few days are most welcome. Maybe I can stay inside today and get some more "inside work" done! Maybe...