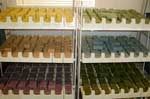 Wow! Here it is, Wednesday and it seems soap has taken over my life! Almost no time for the torch the past few days since I looked around and saw practically empty shelves. I made soap almost every day for 1 straight week and now my shelves look bountiful again. All the colors and scents...
That's the way it is in the spring, all my tourist area customers are stocking up and already re-ordering. A sign to me that people are traveling again, and from what I've heard, they're buying too.
Today's a day to round up some supplies, ship a couple of orders and hopefully, get a little torch time again.
My sister, Tina, and I decided - seemingly last minute to attend the
Candle & Soap Bee
in Ft Wayne, Indiana, June 11th. Now, I find out she volunteered us as speakers on "Using Herbs in Soaps." Should be a blast even though we haven't done anything like that together for over 5 years . For some reason, people think we're funny as we bounce off one another telling our stories.
I think it will be great to meet some of our "Cyber-pals" and finally put faces and voices to the words typed on the pages of emails and forums.