My sister and I went to a bead show in Maryland today. I was hoping to meet up with some friends, but we must have crossed wires! It is a big show, in two different buildings so that's easy enough to do.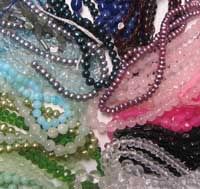 This is my "Take". Lots of different colors - we were thinking ocean with most
of the beads on the left. The deep pinks are hard to find, so I was pleased to get a few strands of those. Some lapis and some garnet.

I went to the show last year with a bunch from the Sizzlers. The show itself was one of the first I attended with a strictly wholesale section. I was happy to find silver at good prices and this year was no exception.. Unfortunately silver was not what I was looking for and the variety I remember from last year just didn't seem to be there.

Last year, it was a revelation, but this year, it was a bit disapointing. I'm not sure why, but I think it is catering more to retail and finished jewelry. Another reason is probably that this show also is held in Baltimore a couple of times a year and the selection there is much better in the larger wholesale section.

I did need to find my "chain people" and when I finally did, they were out of the chains I was looking for! I met them before at the Baltimore show and I guess they remembered me. I placed an order that they will send out when they are back in the office on Tuesday, so that problem was solved.

Love the shows, but oh, so tiring! Unfortunately, by the time I get to the second building, nothing looks terribly new or exciting any more. By the time the next show rolls around, though, I'll be ready!