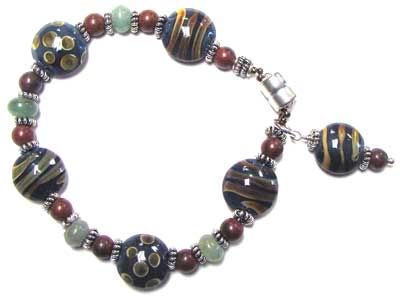 Just a quick post. I finally got some good results from the "Raku" glass.

Really pleased with this bracelet!

The main beads are a steel blue (denim) base with stripes and dots of Raku. I combined the beads I made with some jade and mahogany obsidian.

This would look great with jeans or any navy, jade green or "safari" buff outfit.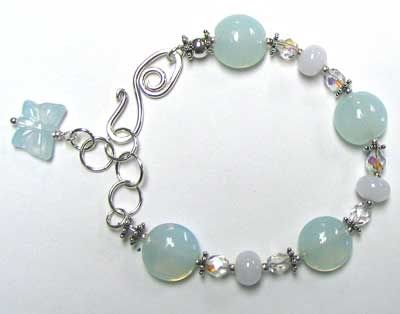 Oh, okay, I had to add this one too.

I call it "Moonchild" and the beads are a glass called "Galaxy" . It may not show in the picture, but they have a definite translucent quality very much like moonstone.

Spacers are opalino white along with some clear AB crystals. I just happened to find the butterfly bead in my stash and it matched perfectly.

I know just where this one is going, in fact I knew from the minute I took these beads out of the kiln.