So, Tina was over and we decided to venture into the woods once again. With the weather as dry as it has been here, the lush summer undergrowth seems to have thinned a bit and we were able to actually venture in a bit.
I didn't get far before I started thinking about all the mosquitoes and "snakey" things and the fact that I was wearing my sandals, so I just kept track of Tina's shadow as she dove into the heavier growth searching for the bayberry bushes we planted this spring....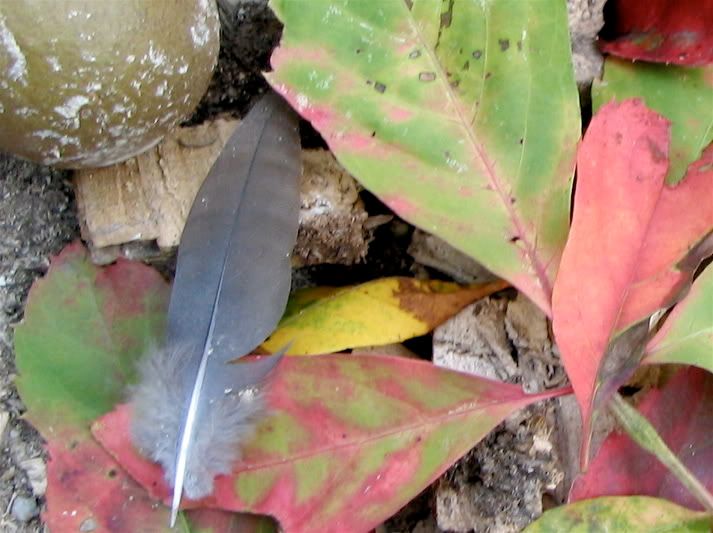 While I was waiting, I played with some of the prematurely colored and fallen leaves along with some other odds and ends I had found to make a temporary collage. I guess it's sort of "found art".
The colors on the leaves were oddly mottled. The black walnut still in its hull (up in the top left corner) reminds me of walks around the pond with "Bobby" (now Rob and apparently even more recently, Harry!) who always insisted on picking them up and sticking his little thumbs in the mushy ends to turn them black. The feather is a gift of one of the birds who has lived this beautiful summer here among the trees. Wonder if he (or she) will be sticking around for the winter?
Speaking of winter... one of the supposed predictors of a hard winter is lots of berries on the dogwood trees.... what do you think? This looks pretty thick to me...
I guess I should hope for a mild winter this year with the predictions of high costs for heating oil, etc.... and I guess I do, realistically, but a good storm or two (no more than that) is always nice if you are stuck and have nothing to do but sit by the fireplace watching the winterscape outside while a pot of soup simmers on the stove.
BUT, it's barely autumn and certainly not time to wish for a snowy day! Despite the horrible weather catastrophe recently on the Gulf coast ... and Ophelia lurking off the east coast, we have been blessed with absolutely perfect weather - although awfully dry - and I'd hate to go wishing it away.
Well, the lye's ready for tomorrow... it'll be a soaping day. Lot's of varieties to get up to speed and a couple special ones I'd like to make for the holidays. And of course, the torch is always waiting...
(Edited today because it's a collAge not a collEge - and I'm an idiot!)