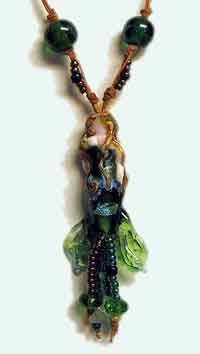 I really need to get these up on my website. I'm planning a new page called "Fantasy Beads", but my website software is driving me crazy - not to mention that I'm apparently challenged in focusing my digicam properly, or at least in transferring well focused pictures to the web! Still need to learn a bit more about html so I can just do it myself instead using of the dang template thing I started with. It keeps corrupting itself. Probably has to do with the fact that I keep switching back and forth on web page editing programs, but it still shouldn't do that....in my opinion.
This little gal is "Serena" and was so fun to make... well, they all are, but I layered silver in her body and you can see it shining through. Gives her a really nice look and shows all the different green and turquoise colors I used.
I had so many ideas about making her into a necklace. Lots of beads and shells would look great with her, but I guess this needed to be kept simple since she's so intricate herself.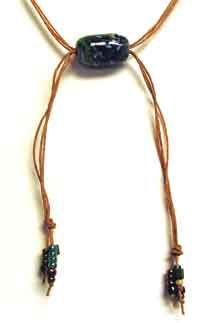 She's strung on Waxed linen with a few embellishments on the necklace itself.
The hole on this bead runs vertically through her body which made it easy to add a tassel of bubbly beads which sort of add to the lushness of her tail.
The necklace is long, but it is made to be easily adjusted in the back. Both ends of the necklace slip through a largish bead in the back and end in small tassels (see picture to the right). Because the thread is waxed, it holds pretty well, but can be loosely tied to keep it in place.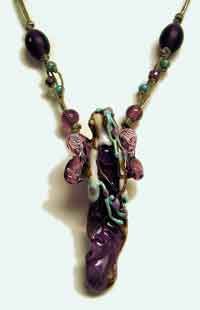 The purple fairy, "Violet", seems characteristically shy as she turns her face slightly to the side and her hair falls over her face. There are garlands of vines and flowers flowing through her hair and held in her hands.
"Violet" is built on a bead and the hole runs horizontally so that she is strung simply on a triple strand of waxed linen and matching beads are worked into the design near the focal, using a knotted pattern.
This necklace is finished the same way as "Serena", with both strands running through a large bead and fringed at the ends.
I'm going to be making a number of beads and necklaces like this. The blue and pink faireies I showed a couple of weeks ago are already gone and I have a fall fairy ready to be strung with some glass acorns and oak leaves I have made. Another "coming attraction" is a midnight fairy in shades of creamy, opalescent white and lapis.. silver star spattered spacers and a large moon bead go with her... better get busy.