Well, it's been a long day... or a short day, depending how you look at it. It was a long day because it was pretty frustrating. It seemed everything I did had to be done over again - a couple of times. It was a short day because it seemed I accomplished next to nothing!
I did manage to get some new labels finished for the salt-spa bars we've been working on. We're really pulling out the stops in the packaging department. It makes a bar of soap look like something more than a bar of soap. It IS the spa bars we're talking about here however, and they really ARE more than a plain bar of soap... even handmade soap.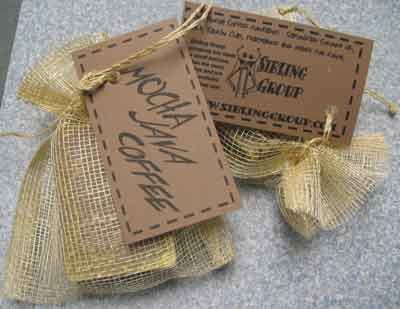 This is the Mocha Java Spa Bar. It is scented with the most delicious fragrance and colored a light cafe au lait tan with specks of white salt all through it. The lather from these bars is something really special and they last forever. As they wear down and are polished with use, they look like river rocks.
We also have made a "Cowpoke Bar", "Good Morning Starshine" and "Mermaid's Treasure". They each have their own over-the-top packaging, but at the moment, the Mocha Java is my favorite.
Brother John came over to try to help me with my website woes and we may have figured part of it out... We'll see. I have so many changes to make - old stuff to take down, new stuff to go up... And meanwhile, the header keeps changing along with the cells in the tables having minds of their own. I know, I know... that shouldn't happen, but it does.
Maybe it will all make sense tomorrow.