Wow.. I'm managing to combine a bunch of things all in one post. It even has something to do with business!
Last year, I started making soap beads with holes large enough to be strung on a chain and hung around the neck. We took them to a couple of soap conventions and sold quite a few.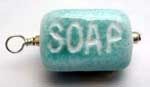 This year, Kitty from
Kangaroo Blue
contacted me to see if I could make someting special for her. Kangaroo Blue is a popular supplier to soap and candle makers.
I made a slightly different version for her. They are charms - wired with a sterling silver loop for hanging. I found a rectangular press so they are now much more uniform in size and shape than last year.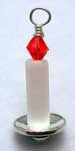 Kitty wondered if I could do something for the chandlers and I wracked my brain until the idea for this candle charm popped into my brain.
It so happened that shortly after the idea hit, I was attending a bead show where I was able to find the exact components I needed to make this charm.
I love the little sterling candle holder and the sparkly crystal candle "flame". It really turned out better than I had even hoped!
Now, as to soap... Yesterday we had a fun, creative and yet productive day making some new soap varieties.
We had some special soaps to make for one particular customer, but once we got started... It just got the creative juices going et voila!
Starting from the top left and going clockwise:
Rosemary - scented with Rosemary eo and swirled with the powdered herb.
Doublemint - one of my favorite combinations of eo's and double swirled with the same colors (red and aqua) as the Starlight mints flavored the same.
This is close to the scent I call Wise Woman, but changed just a bit for a special customer. So we don't get confused, we marbled this one with burgundy oxide.
And finally, Happy Camper, a soap made to combat the itching of poison ivy and mosquito bites. We collected and blended jewelweed and plantain to make the interesting "pesto-like" addition and then scented lightly with tea tree and lavender eo's.
Numma!